Need the most ideal venue for your celebration? Coliseum is one of the most luxurious party spaces you can have your party at. Relax! There are well maintained highly gorgeous venues for every party. There are highly professional staff members to cater to your needs. Your party would be perfect! Let your guests admire you for arranging a stunning party. Coliseum is the right place where you can connect to for booking a party. Every space at the Coliseum is renovated to better facilitate clients preferences. So, what are you thinking about? You have one of the professional party organisers for your special event.
We have hosted successful parties, which makes us a trustworthy choice for many of our clients. Coliseum develops to organise parties according to the growing needs of modern clients. Let the Coliseum organise the most happening event for you. We prioritise every party because we understand celebrations are happy moments, and making it exciting is what our professional team works for. Give the best party feel to your guests by booking the Coliseum for your event. Why worry for your party needs when there is Coliseum, the ideal company for every private event in Westchester, NY? Call Coliseum to discuss your party.
Party Venue Westchester County New York: There are well equipped party spaces at the Coliseum that can fit to any type of party you want to host. There are very gorgeous illuminated dance platforms, stunning lighting, high quality music system, and more. There is everything that can make your party superb. The spaces are carefully designed, keeping in mind what party lovers look for. You can host birthdays, sweet 16s, musical events, wedding events, etc. So, what are your party preferences? Let Coliseum, the best option, arrange a venue as per your party theme. Creating a gorgeous party ambience is what we excel at.
There are highly professional kitchen staff to enhance the charm of your party. Wondering how? Food is one of the important aspects of parties. Coliseum offers the best customised food menu, which you can select as per your preference. Our staff would be preparing delicious food items for you to select, which will be finalized to be made at the event.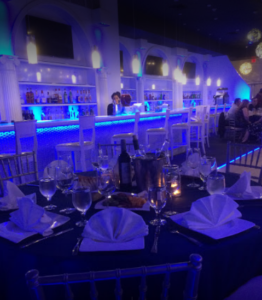 So, relax for your party, as Coliseum will efficiently arrange everything. You would love everything at the Coliseum: the classy furniture, high-quality lighting, best sound systems, tempting food, etc.
Call for hosting party at Coliseum, the best option for party venues in Westchester, NY.
Get the best stylish party venue!